On 18 April 1854. David Davies was born in a cottage near Aberlash Farm, which was situated near Ammanford in Dyfed.
.....He had been born into a large poverty-stricken family and his father, William Davies, earned a living as a labourer on Aberlash Farm.
..... David Davies, however, was destined to become one of the wealthiest and most influential men in the Swansea Valley by becoming a successful colliery proprietor. The life of David Davies is one that took him from rags to riches.
..... In 1860, William Davies decided to take his wife and their children to live at Pentalwn in Godre'rgraig, near the town of Pontardawe, in the Upper Swansea Valley. William Davies soon found employment in the Ystalyfera Iron and Tinplate Works, which was owned by a local businessman named James Palmer Budd. David Davies, who was then six years old, also went to work in the iron and tinplate Works. At such a young age, he had the grueling experience of having to work sixteen hours a day at a daily wage of 6 pence. As there were several David Davieses working in the ironworks, David adopted his father's name as his second name. Thus, he became known as David William Davies. He also became known by the surname of 'Davies Aherlash' after Aberlash Farm.
..... David William Davies had no schooling, as his life was spent in the iron and tinplate Works, but he improved his knowledge as best he could by attending Chapel and Sunday School.
..... He became a frequent competitor at the Penny-Readings and local eisteddfodau. He also learnt chapters and psalms from the Bible, which he sometimes recited before the congregation at Pantteg Chapel, in Ystalyfera, where he would one day become a senior deacon.
..... Throughout the years of his life, David William Davies was a very religious and God-fearing man and he once said, "The Bible will teach you how to live and how to die".
..... When the ironmaster James Plainer Budd inspected the iron and tinplate Works every Monday morning, he was shown the best tinplates and, after he had gone, the shining tinplates were then stored safely away as, unbeknown to the ironmaster, they were the same tinplates shown to him in his weekly inspections. David William Davies then decided that, if he ever became an employer, he would he wary over such dirty tricks ever being played on him. (See Note 2 below)
..... The early 1880s was a time when the Upper Swansea Valley was hit by a depression as work became scarce. James Palmer Budd died on 9 December 1883 at the age of eighty, and the iron and tinplate works began to deteriorate until it finally closed down in 1886. Many families moved away from the area in search of employment, but David William Davies was to bring prosperity back to Ystalyfera and the neighbouring villages.
..... In 1886 – the year when the Ystalyfera Iron and Tinplate Works closed down – Davies Aberlash decided to reopen the old Pwllbach Colliery in Ystalyfera. The colliery had first been opened by a colliery proprietor named Daniel Harper in 1812, but the colliery had been idle for many years.
..... Many people believed that his venture to reopen this old colliery would end in failure, and it was a very hold and daring venture, as Davies Aberlash had no experience at all in coal mining. A few local friends, however, believed that the reopening of the colliery would he a success.
..... A story goes that the men employed at Pwllbach Colliery by Davies Aberlash found coal in the mine, but the miners soon struck a fault and they lost all trace of coal.
..... Davies Aberlash told his workmen that he had spent all his money and, therefore, he couldn't pay their wages.
..... As the men had no work to go elsewhere, they continued to dig in search of coal for a fortnight and, to the astonishment of many people, a rich vein of coal was discovered beyond the fault.
..... Davies Aberlash paid all his men the wages owing to them, and so Pwllbach Colliery became a great success. It made David William Davies Aberlash a wealthy man and the colliery brought employment to hundreds of men from the area.
..... Davies Aberlash then took Mr. Edmund Cleeves of Swansea into partnership and they formed the Pwllbach Colliery Company with Davies Aberlash as its managing director.
..... The colliery under his supervision provided employment for nearly forty years. And was later handed over to the Amalgamated Collieries Ltd., employing between 600 and 700 men. (See Note 3 below)
..... Encouraged by the success of Pwllbach Colliery, Davies Aberlash took advantage of the experience he had as an employee of James Palmer Budd's Iron and Tinplate Works.
..... He acquired the Phoenix Tinplate Works, in Ystradgynlais and thus he brought more employment into the area.
..... A few years later, he opened two other collieries – The Diamond Drift Colliery in Ystradgynlais, and the Tirbach Colliery in Ystalyfera. (See Note 4 below)
.....David William Davies Aberlash had now become a much respected man in the Upper Swansea Valley. Though he was known as 'Davies Aberlash', he was also known by the surnames of 'Davies Tycoch', after his red-bricked house in Ystalyfera, 'Davies Pwllbach', and 'Davies Tirbach after the collieries which he owned.
David Davies Aberlash in later life, looking every inch the prosperous coal magnate and chapel elder.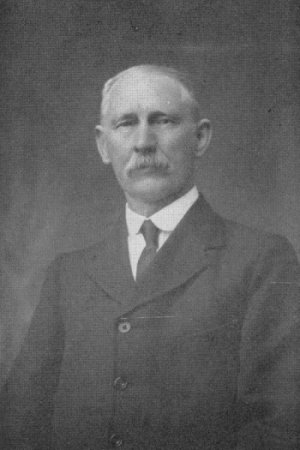 .....Though he became a very wealthy man, Davies Aberlash didn't forget his poor and humble beginnings. He became known in the Upper Swansea Valley for being a philanthropist as well as a leading industrialist – he supported education of others in many ways, such as giving scholarships to his employees, and he donated £1,000 to Ystalyfera's Grammar School.
..... His generosity knew no bounds and he often gave donations to clear the debts of many local churches in the area.
..... He took particular interest in Pantteg Church in Ystalyfera and he donated £600 for the rebuilding of a vestry at the Pantteg Church. It was a proud moment in his life when he was elected as a senior deacon at Pantteg Church in 1901.
..... In 1924, now at the age of seventy, Davies Aberlash gradually retired from the coalmining industry which he had re-established in Ystalyfera. He did, however, devote himself to public and social duties during his retirement.
..... In May 1935 he gave a gift of £10,000 to Swansea General Hospital (now Singleton Hospital). The gift was given on condition that a new hospital block would be known as the 'D. W. Davies Block' and it would have a ward named the 'Martha Davies Ward' alter his wife. The gift was a thanks-offering for his wife's recovery from an illness.
..... The money was handed to Dr Clark Begg in a sealed envelope at the opening of the new block. The amount of this generous gift covered the cost of the building materials, and so the new hospital block was opened free of any debt.
..... After giving the gift of £10,000 to the hospital, Davies Aberlash maintained a lively interest in the hospital, which he often visited to meet the doctors arid patients. He also became the president of the hospital's contributory scheme at Ystalyfera, and he often discussed at his home the running of the hospital with hospital officials.
..... One of his last public duties was in the summer of 1937 when he opened the outdoor swimming pool in Ystalyfera which had been built for the people of the village.
..... The life of David William Davies Aberlash came to an end in the early hours of the morning of Friday, 26 November 1937, when he died at his home in Ystalyfera at the age of 83.
..... He left hehind a widow, Martha Davies, but their marriage had remained a childless one.
..... His estate was estimated as being £750,000, and some of the estate, known as the 'Aberlash Fortune', passed to his younger brother William Davies, who was a colliery official with the Amalgamated Collieries Ltd. The funeral of David William Davies Aberlash took place on Wednesday, 1st December 1937, at Pantteg Church, and he was laid to rest in Pantteg graveyard. (See Note 5 below)
..... Many colliery official attended his funeral service to pay their last tribute to David William Davies, Aberlash, the industrialist and philanthropist of Ystalyfera.
Source: http://www.terrynorm.ic24.net/aberlash.htm....S.
Sour